Every senior caregiver is eventually going to encounter a client who is undergoing some form of therapy. It is important to know there are different kinds of therapy for seniors. Physical therapy and occupational therapy both serve different purposes and functions.
Physical therapy treats some type of physical injury. This form of therapy does not just deal with injuries that result from an accident or fall. Physical therapy also treats individuals who have suffered some kind of illness, such as a stroke. The goal of physical therapy is to create a routine that is aimed at returning the patient to their condition prior to suffering an illness or experiencing an accident.
Physical therapy often makes use of exercise equipment in an effort to build up the affected area of injury. Elderly people often receive physical therapy after breaking a bone, suffering a stroke, or experience Osteoporosis.
Occupational therapy is a bit different in that it helps seniors who have experienced permanent loss in a certain area due to an accident or illness. Stroke victims can lose sensation in certain areas of their body, which forces them to readjust the way they live their daily lives. The impairments among those who undergo occupational therapy are permanent. This form of therapy is a way to help them adjust to life with that impairment.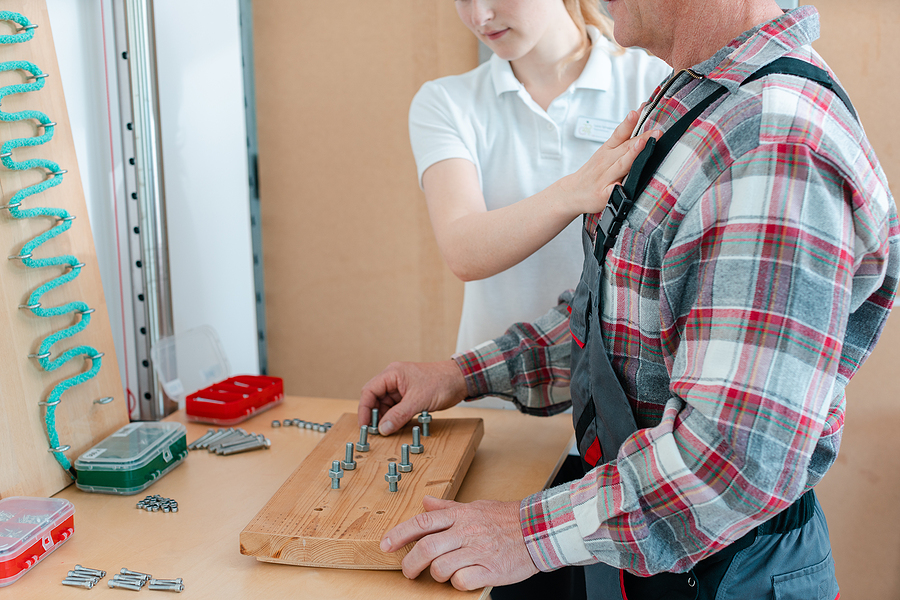 Occupational therapists find solutions in devices and contraptions that help make life easier for patients. Their aim is to enhance the ways seniors can still live independently.
Knowing the differences between these two types of therapy is key for an elderly care specialist. Furthermore, there could be consequences for seniors who do not follow through with their respective therapies. Future falls, risk of infection, and a reduction in the quality of life are all potential consequences.
A home caregiver may be asked to assist with some in-home activities that are part of a senior's individual therapy plan. Those activities can be very important as they can help seniors maintain their independence, which is a primary function of an effective senior care specialist.
Helping Hands Nursing Service will refer experienced home nursing aids who can help improve the quality of life for your loved one. When help is needed, call on a service with years of experience as Helping Hands Nursing Service is ready to provide you with home nursing care at its finest.