Why Home Care?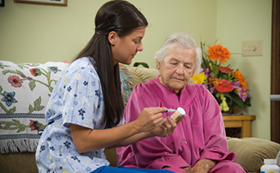 There comes a time in everyone's lives when we may not be as able to perform the usual tasks that we used to due to illness, injury or old age. When that time comes, individuals and families are forced to make a decision on how to care for themselves or their loved one.
What Choices Do They Have?
There are nursing homes and assisted living communities, and each has its advantages. The main disadvantage shared by both is that the person is forced to live at the facility, rather than remain in the familiar surroundings of home.
There are also large, franchised, impersonal home care services with high rates and limited hours. Sometimes, the individual loses identity and becomes just a case number rather than a person with feelings and needs.
And then there is Helping Hands Nursing Service, Inc.
With us, you are a friend and an honored member of our clientele, not just a number. We work hand in hand with you, your family and with the individual that is in need of care to ensure that you are assigned the perfect caregiver for your individual situation, location and personal needs.
Our warm and caring home care providers will provide you with the care and understanding that you need in your home, where you are most comfortable.