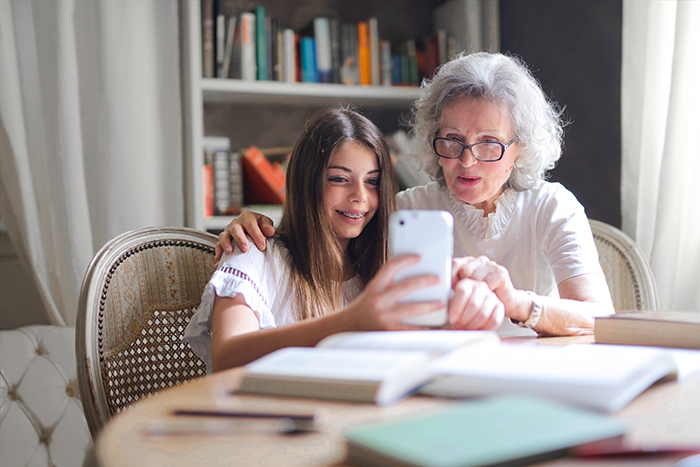 Social media has no age limit or requirement. Anyone of any age can enjoy all the benefits social media has to offer by utilizing Facebook, Twitter, Instagram and more. Here is a look at how social media can benefit seniors in elderly care.
Reconnect with Old Friends
Facebook has become a way for friends to reconnect and to find out just how someone from your past is doing. It is also relatively simple to operate and navigate. Seniors could find former classmates, friends, co-workers and more. The immensity of pictures on Facebook is also an added bonus.
Enhance Communication with Younger Relatives
The younger generation seems to live online as social media has become such a huge part of their existence. When an elderly person becomes involved with social media, it allows for a better connection with their younger relatives, who are more prone to communicate on social media nowadays.
Health Tips
Social media is packed with health tips, practices and advice for seniors. Being able to utilize social media will allow seniors to get in touch with more of what is going on in with their health. There is an abundance of valuable information on healthy senior living and things seniors can do to improve their health.
Make New Friends
There are other seniors out there also utilizing social media. This is a way for seniors to connect, talk and share stories. Not all seniors are mingling with new people outside of the house, but social media gives them a chance to make new friends all over the world.
Stay Updated With Family
Family photos, daily excursions and all their latest happenings are usually posted to social media right away. This will allow seniors to follow everything that is going on in the lives of family members. It will also allow seniors to enjoy those moments as they happen.
Online Discounts and Deals
If you hang around long enough on social media, you are bound to find a few deals. Seniors can take advantage of online discounts and coupons which are often a result of using social media on a regular basis.
When you are in search of an elderly caregiver service, contact the team of professionals at Helping Hands Nursing Referral Service. Providing top quality home care referrals, we can provide your loved one with an experienced senior caregiver who can improve the life of your entire family.